Department of Genome Science and Microbiology
Overview
Our laboratory is dedicated to the elucidation of the mechanisms of biological responses to pathogenic microbial infections. In particular, we are investigating the roles and regulatory mechanisms of host factors interacting with pathogens using various methods based on genome science, and we are also focusing on the education of postgraduate students. In addition, we are promoting "Distinctive Curriculum: Infectious Diseases" for medical students as part of UF-IDEEP, the University of Fukui Infectious Disease Expert Education Program to develop human resources for infectious disease medicine, and are practicing advanced undergraduate education. We are also contributing to society through high school-university collaboration and promoting international exchange in medical education. Although we are a small basic medical laboratory, we conduct research and educational activities in a creative atmosphere and contribute to the development of excellent medical professionals who are active in the community.
Member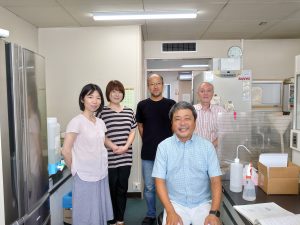 Kiyonao Sada MD PhD
Kazuyasu Chihara PhD
Kenji Takeuchi PhD
Yuri Chihara PhD
Satomi Yamamoto (secretary)
Research Outline
From cancer viruses to tyrosine kinases and signal transduction: The discovery of the oncogene v-Src and its tyrosine kinase in the Rouse sarcoma virus led to the study of intracellular signal transduction and the discovery of cellular tyrosine kinases that are expressed in normal tissues and regulate individual development and tissue growth and differentiation.
Evolutionary summit battle: Why do humans suffer from infectious diseases? As virus-host interactions, we have been promoting the study of host factors that affect the proliferation of hepatitis C virus, and have elucidated that tyrosine kinase Abl is required for the life cycle of HCV, especially for the formation of viral particles. In the future, it is expected to be applied to the control of viral infection using anti-cancer drugs. On the other hand, as for pathogen-host interactions, we have been studying host factors for pathogen infection, and have found that the adaptor protein 3BP2 is essential for the C-type lectin receptor (CLR) signaling pathway, which is known as a receptor for fungi and Mycobacterium tuberculosis. They are expected to expand their research to elucidate new innate immune signals mediated by the CLR.
International Exchange
Our laboratory conducts short-term exchange programs for medical students with overseas universities with which we have academic exchange agreements. The students learn about the unique medical care and medical research of each country and develop an international perspective through exchange with international students.
Since fiscal 2011, we have been conducting a program with the Faculty of Medicine, Airlangga University in Surabaya, Indonesia, to experience the forefront of clinical and basic research on infectious diseases in each country.
If you have read the papers published by our laboratory listed below and are interested in enrolling in graduate school from abroad, please send an email to me (Prof. Sada).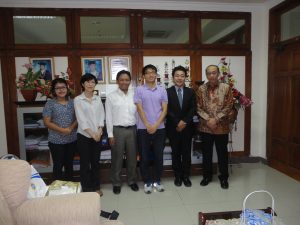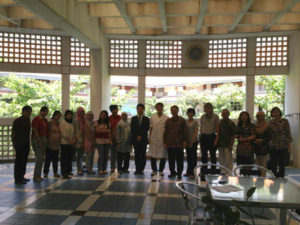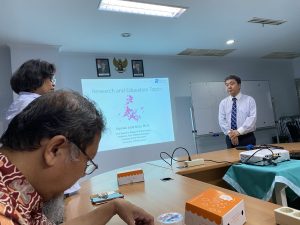 Visit to the University of Airlangga and special lecture.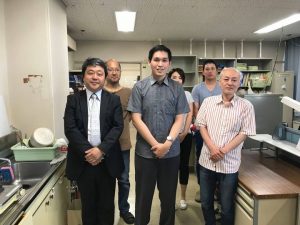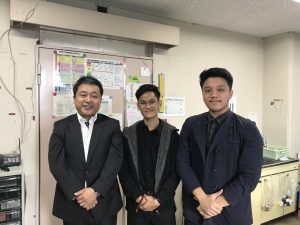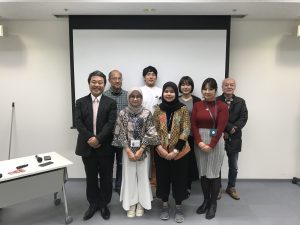 Short-term exchange students from the Faculty of Medicine, University of Airlangga.
Selected Publications
Miyamoto D

,

Takeuchi K

,

Chihara K

, Fujieda S, and

Sada K

. Protein tyrosine kinase Abl promotes hepatitis C virus particle assembly via interaction with viral substrate activator NS5A. J Biol Chem. 2022 Apr;298(4):101804. Epub 2022 Mar 4.
Chihara K, Chihara Y, Takeuchi K, and Sada K. Adaptor protein 3BP2 regulates dectin-1-mediated cellular signalling to induce cytokine expression and NF-κB activation. Biochem J. 2022 Feb 17;479(4):503-523.
Kowada K, Takeuchi K, Hirano E, Toho M, and Sada K. Development of a Multiplex Real-Time PCR Assay for Detection of Human Enteric Viruses Other Than Norovirus Using Samples Collected from Gastroenteritis Patients in Fukui Prefecture, Japan. J Med Virol. 2018 Jan;90(1):67-75.
Chihara K, Kato Y, Yoshiki H, Takeuchi K, Fujieda S, Sada K. Syk-dependent tyrosine phosphorylation of 3BP2 is required for FcRγ-mediated phagocytosis and chemokine expression in U937 cells. Sci Rep. 2017 Sep 13;7(1):11480.
Honjoh C, Chihara K, Yoshiki H, Yamauchi S, Takeuchi K, Kato Y, Hida Y, Ishizuka T, and Sada K. Association of C-type lectin Mincle with FcεRIβγ subunits leads to functional activation of rat mast cells through Syk protein tyrosine kinase. Sci Rep. 2017 Apr 10;7:46064.
Yamauchi S, Takeuchi K, Chihara K, Honjoh C, Kato Y, Yoshiki H, Hotta H, and Sada K. STAT1 is essential for the inhibition of hepatitis C virus replication by interferon-λ but not by interferon-α. Sci Rep. 2016 Dec 8;6:38336.
Yamauchi S, Takeuchi K, Chihara K, Sun X, Honjoh C, Yoshiki H, Hotta H, and Sada K. Hepatitis C virus particle assembly involves phosphorylation of NS5A by the c-Abl tyrosine kinase. J Biol Chem. 2015 Sep 4;290(36):21857-64.
Kimura Y, Chihara K, Honjoh C, Takeuchi K, Yamauchi S, Yoshiki H, Fujieda S, and Sada K. Dectin-1-mediated Signaling Leads to Characteristic Gene Expressions and Cytokine Secretion via Syk in Rat Mast Cells. J Biol Chem. 2014 Nov 7;289(45):31565-75.
Chihara K, Kimura Y, Honjoh C, Yamauchi S, Takeuchi K, and Sada K. Tyrosine phosphorylation of 3BP2 is indispensable for the interaction with Vav3 in chicken DT40 cells. Exp Cell Res. 2014 Mar 10;322(1):99-107.
Chihara K, Nakashima K, Takeuchi K, Sada K. Association of 3BP2 with SHP-1 regulates SHP-1-mediated production of TNF-alpha in RBL-2H3 cells. Genes Cells. 2011 Dec;16(12):1133-45.
Shukla U, Hatani T, Nakashima K, Ogi K, and Sada K. Tyrosine phosphorylation of 3BP2 regulates BCR-mediated activation of NFAT. J Biol Chem. 2009 Dec 4;284(49):33719-28.
Takeuchi K, Komatsu T, Kitagawa Y, Sada K, and Gotoh B. Sendai virus C protein plays a role in restricting PKR activation by limiting the generation of intracellular double-stranded RNA. J Virol. 2008 Oct;82(20):10102-10.